Demand for the beam® brush has been off the charts! It's far exceeded anything we anticipated, and has outpaced our production. When we realized the problem, it occurred to us that there were two paths we could take.
The first path was straightforward. We could contract produce more brushes as quickly as possible and ship them to our members exactly as we have in the past. The second path was more complicated. We could use the inventory problem as an opportunity to regroup and find ways to improve our brush, our manufacturing process, and our user experience. Naturally, we chose the second path to give our customers the very best product.
This has meant a few things for our customers, most good, one not quite as good. Let's get the bad news out of the way first. As some of you know, brush shipments were delayed, but we're committed to making sure that all our customers have their beam® brushes as soon as possible.
And now for the good news. And trust us, it'll more than make up for the delays.
A better beam® brush
So what do we mean by better? We'll save the technical details for another time, but there are a few things we can promise. Our new brushes are made with the highest quality materials, and we've also made some changes to the ways they're designed and engineered, meaning that they're more durable and reliable than ever before.
Made in the Midwest, as always
Our brush has always been designed and engineered in-house and manufactured in the Midwest. Now we've taken things a step further by bringing our entire manufacturing process in-house as well.
Doing this allows us to have greater control over the entire manufacturing process, which means we can bring you a higher quality beam® brush. Plus, this enables us to double down on our commitment to our home state of Ohio and create jobs here in the Buckeye State. I can now tell you that production is up and running and we're on track to catch up with pent up demand quickly!
Primo packaging
Since the day we were founded, a key value of beam® has been to listen to our customers. Based on member feedback, we also decided to make some upgrades to our packaging. First off, every beam® brush is now shipped in its own travel case, making your brush easier to travel with than ever before. We've also made our packaging more compact for more efficient shipping to reduce our environmental impact. You're going to love the new unboxing experience. You want a sneak preview? Okay, here you go!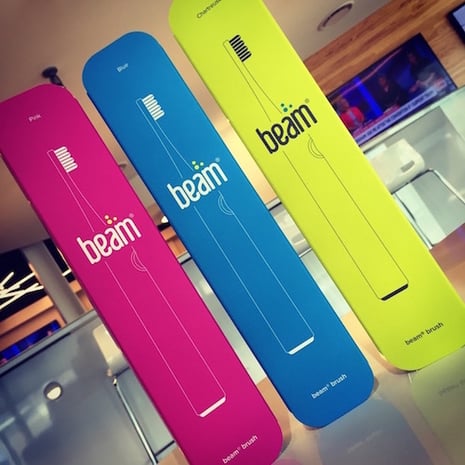 Summing it up: always improving
Want the super quick summary? Here it is: We couldn't keep up with demand for the beam® brush. As we are constantly iterating on our products and customer experience, we decided to use this as an opportunity to take a step back and see where we could improve. We're making major updates to our beam® brush, our production process, and our packing, all while maintaining our commitment to manufacturing in Ohio. This has meant there have been some delays in getting brushes shipped, but we promise they will be ready soon and will be more than worth the wait.