When you think of an insurance broker, you probably think of some tie-wearing, paper-toting old-school salesman. Like this guy: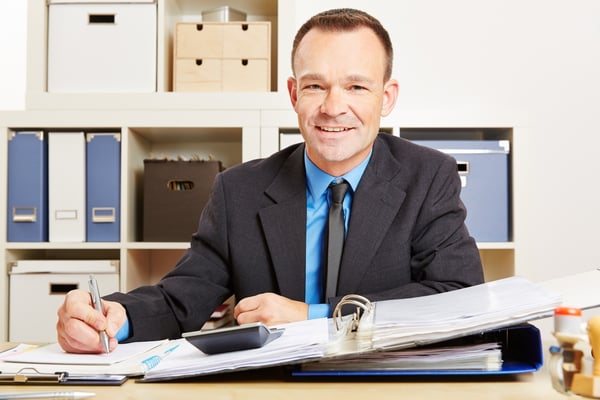 Sure, there are plenty of fantastic brokers that still carry around a briefcase, wear a suit every day and focus completely on the relationship side of the business. However, many of them aren't up-to-date on the latest benefits options or technology. And if you're reading this post, you clearly care about innovation and making the best benefits decisions for your company. So I'm going to show you how to find the best benefits broker / consultant / advisor that fits your company.
Note: There isn't always a clear divide between a benefits broker, benefits consultant and benefits advisor, so I will refer to all of them interchangeably as a benefits broker. You likely want someone who will be more of a consultant or advisor, but you'll need to do your homework -- see below for more.
In my previous post, I laid out a framework to compare a traditional benefits broker vs. HR technology platforms, so if you're reading this post, I assume that you're at least interested in learning more about how to find the right broker. If not, I suggest reading the other post first.
Given that this is the 3rd part in the series, you may have read the second post on selecting a HR tech platform. If so, these first few points should look familiar, but with the angle of working with a traditional benefits broker. Here's what I suggest as the first three steps in identifying the right benefits broker for your company.
1. Define your objectives for HR (i.e. what do you want?)
If you're going to narrow down your choice, it's critical to clearly state what you're looking for from an HR / administration side of things. Pretty obvious, right? I wouldn't recommend an extensive list, but three to five key decision factors would be helpful. Here are a few potential examples:
Access to the widest set of carriers and other vendors to maximize choice
Access to a curated set of benefit options to limit choice
Lowest costs
A consultative approach to comprehensive benefits plan
Help identify the best Benefits Administration software for the business
Limit the amount of paperwork needed
Limit the number of people HR must connect with at the brokerage
Strong track record / expertise in a specific area (e.g. medical)
These can be similar to your objectives for using a tech platform and I would expect each company to have a unique list. The important aspect of this is to simply have a defined list to reference as you evaluate options.
2. Identify what matters to employees (i.e. what does the team want?)
Let's face it, your benefits are in place to serve your employees. So why not try to understand what best meets their needs? Similar to the above, come up with a short list of factors which would provide the most value to employees. Again, a few potential examples:
Fast onboarding time for new employees
Flexibility for employees to manage their own information
Live employee education on new benefits
Employee guidance for individual enrollment choices
Ongoing communications from the broker to educate employees
Once your objectives for HR and employees are in place, now it's time to research and narrow down.
3. Identify which brokers / consultants are available in your area
Like with tech platforms, the best way to identify a preliminary list of brokers is to ask around: other HR benefits managers, founders, or decision-makers at businesses like yours.
Outside of that, it's important to leverage local resources. A Google search will obviously get you somewhere, but check out the "book of lists" from local media companies or even consumer review sites (e.g. Yelp). I'm sure you can come up with even more locally relevant resources for you.
Take a quick look at each firm's website. Are they part of a large national firm? What does the site look like? Do they explicitly mention employee benefits? What "feeling" do you get as you conduct your initial search?
Since you've got your objectives in place from the previous activity, it should take little time to come up with a list of about 5 options that may make sense for your company to meet your objectives and align with your brand and culture. However, it's ultimately going to come down to the individual relationship as a reflection of that, not a pretty marketing site.
Because of this, the approach in choosing a broker differs drastically from choosing a tech platform. While finding the right tech platform can be done by reading their site and content, getting a trial / demo and maybe a call or two with a sales rep, finding a benefits broker can be a much more time-consuming process (and much more personal). Depending on your short list of brokers, you likely need a short intro call and then a live interview. Many brokers consider this a sales meeting to win your business, but you should think of it like an interview and I suggest you conduct it as such.
4. Interview the candidates
Here are some questions to ask:
"How will you help me develop a benefits package for my company?"
Specifically ask this question open-ended and be sure to follow up with a number of "What's next?" Or "Why that step?" Or "And who will I directly be working with?"
What you're looking for here is to get a feel for how they approach working with you. Do they spend a lot of time trying to understand your team and culture? Do they talk about how they have special deals with preferred carriers and always recommend those? Do they focus on the fact that they farm out your quote to 10 carriers and will bring only the lowest quotes back to you? This is really about understanding their philosophy, and deciding if it matches your needs.
"What are the time requirements to build that package?"
There is no right answer here and more time isn't necessarily better or worse, but you should be thinking about this question as to how it relates to your objectives. Does the broker require weekly lunch meetings for 6 weeks before getting your first quote? Are they able to get you quotes tomorrow so you can meet a deadline to add benefits? Do they spend significant time educating you on what they are building, or simply ask some questions and then come back with the solution? What works best for you?
"How do you differentiate yourself from [local competition]?"
Ask this question to get a grasp on their value proposition. Does the broker try to win your business by providing something truly differentiated (e.g. relationship, culture, proprietary technology) or is it more of the same? Do they do more than just "get quotes" and fill out paperwork for you?
Additionally, think about how they refer to the competition. Are they overly negative to build themselves up, or do they have true value that differentiates themselves and they focus on their own business rather than defaming the competition? This question should provide some insight into whether or not you'd like to work with them.
"How do you use technology to work with your clients?"
You'll get a range of answers here, but depending on your needs, you'll want to explore a few different options. Does the broker offer a Benefits Administration (BenAdmin) software as part of your services? Do they handle electronic applications and enrollments? What about physical or digital educational materials to employees? To be clear, I'm not strictly advocating for the most technologically-advanced broker, but rather for the broker that uses the right level of tech to meet your needs.
"What carriers and vendors do you work with?"
Do they have access to the carriers / plans you want? Do they have preferred rates? How do they get those and how do you qualify?
What you're looking for here is to make sure that you have access to the carriers that you want, and also understand that the broker is bringing solutions to you that are in your best interest. While the broker may be working for you, they are typically paid by the carriers, so it's important to understand their biases. That brings us to the next question.
"What is support like throughout the year?"
Assuming you work with them and they set you up with a fantastic benefits package, then what? How much will the broker(age) engage with you or employees throughout the year? Do they help your members at all? Will they handle tough questions from you with a carrier? Are they handling billing for you? What is the issue resolution process like?
"What other clients do you work with that are like me?"
Finally, you want to make sure that the broker truly understands your business and your needs. There are often different requirements for small businesses and you want a broker that knows all the intricacies of working with a client like you. Moreover, the other clients they work with can give you an idea of whether or not the broker would be a reflection of your company culture and brand. And again, ask for references and follow up!
When choosing a broker, there are two basic steps: define your needs then interview a short list of brokers. Ultimately, you want to find someone that will be devoted to your company, and the combination of expertise and fit will often win out. This approach should help you find that perfect broker to create the perfect benefits stack for your company.
Brought to you by Beam Insurance Services LLC. Material discussed is meant for general illustration and/or informational purposes only; is not intended to be relied on as complete information; and is not to be construed as tax, legal, investment or medical advice. This material is not meant to be a sale of or an offer to purchase an insurance plan from Beam®. Should you have interest in purchasing an insurance plan from or through Beam®, you should seek the help of a licensed professional.
BM-BLG-0015-201707